About me
Posted on January 22, 2012 by admin in Uncategorized.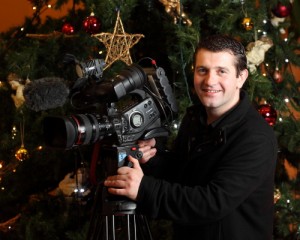 Hello and thanks for taking the time to browse my site.
My name is Robin Wallace, i am 'celtic video', by that I mean I do all the filming and editing myself. Ever since I was 14 years old, I have been using camcorders to create home movies, document events and do re-makes of my favorite Hollywood films, but i'd prefer not to talk about that, its really embarrassing trying to do a re-make of a multimillion dollar movie like 'Terminator 2′ with no budget whatsoever!
But I enjoyed it, as I enjoy documenting events today, and there is no bigger event in a persons life than their wedding day.
I find the best bits of video on a wedding day are the natural moments that happen between people when they think the cameras are not watching, that's when a discrete cameraman is great to have. I believe I can blend into the background, and document the day in a tasteful and unobtrusive way.
Apart from weddings I spend much of my time filming stock footage. This footage is beneficial to documentary makers, news networks and corporate producers. It can be dramatic landscapes, famous landmarks or political events.
I currently have stock footage clips I have filmed for sale with some of the biggest names in the industry, BBC Motion Gallery, Nat Geo and Thought Equity Motion, please click Here to see my entire stock footage collection. Themes range from Trekking on Mount Everest, to riots in the Ardoyne Road, literally years worth of work!
More recently I have worked for some of the biggest Global industries in Ireland, having completed an induction video for Procter & Gamble, IRL.
If you are thinking of using me, please know I always arrive on site for work prepared, fully insured with public liability and professional indemnity cover.
So please feel free to contact me, my email is info@celticvideo.com and my mobile number is 086 0567193
Thanks
Robin.